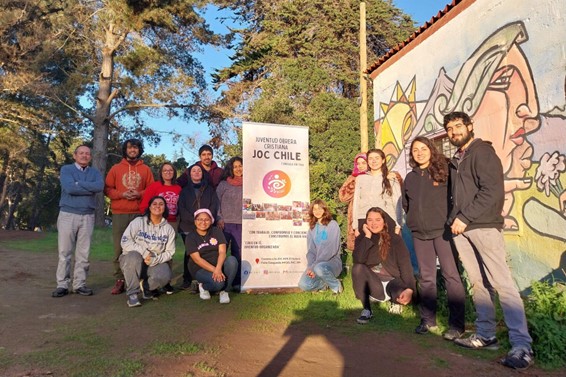 A training week was organized by the Chile YCW from July 5 to 9. This enriching experience took place at the El Quisco YCW retreat house, located on the coast of the Valparaiso region. During this event, young people from different communities and backgrounds came together to share experiences, gain new knowledge and reflect on issues that concern our young people. We were delighted to have the active participation of representatives from the Peru YCW as part of our joint efforts to strengthen co-responsibility between the two organizations.
"It was very important for me to get together with my YCW comrades. This meeting enabled us to generate a greater sense of community and comradeship. I realized how important it is to create bonds of friendship that serve to strengthen our actions and participation in the YCW. Moreover, having the time to review our common reality and problems helps us to improve the analysis we have and to scan the situation of young people in the YCW, the context in which they live, and to plan actions that respond to the needs we have individually and collectively." (Nicol, Chile YCW)
We would like to highlight some of the main activities carried out during the week:
The community dialogue, titled "Constructing Knowledge" and developed in collaboration with the Casa Escuela Viva organization, brought together different actors from our network of relationships, as well as YCW youth, with whom we shared knowledge, experiences and insights on various issues relevant to the community. This activity fostered an enriching exchange of realities, experiences, reflections and collective perspectives.
We had days of analysis of local and national realities, during which we reflected on and debated the lives of young people, tackling political, social, environmental and economic issues at national and local level. These sessions fostered a deeper common analysis to support the personal and collective actions developed by young people. Furthermore, we approached the work from a local and ancestral point of view, based on our own feelings and reflections, in order to find new paths that respond to our principles and aspirations, and enable all young people to live in dignity.
"Without a doubt, the whole day touched on subjects that are of great interest to me, not only on a national level, but it also enabled us to realize that, although living in different countries, comrades in Peru face similar problems. What emerges from this space for reflection is the review of our principles and task of education, because it is necessary for all of us to be aware of the YCW's guidelines, and as an individual reflection, when I read and interpreted them, I realized that my lifestyle and the way I act in this society, the activities I carry out and the actions I manage to achieve, are in line with these principles. Being part of the YCW is a way of life, a life in community, a life that cares about the environment, a life that cares about children, a life that cares about well-being, in a word, about living well." (Camila Cartes, Chile YCW)
We also had the YCW Museum, where we shared our activities, actions and initiatives linked to the solidarity economy and well-being. This space enabled us to showcase actions relating to food sovereignty, natural phytocosmetic products, screen-printing, summer courses on the environment, the recovery of ancestral knowledge, the recovery of spaces for the community, community gardens, organic waste management. All with the aim of strengthening our YCW identity.
"Being able to share reinterpreted sounds takes us back at least 3,000 years. In the past, it was very important for the way of life to be linked to living well... by saving ritual and ceremony, we're also saving ancestral wisdom, and I love sharing that. In the past, the way of life didn't consist of working all day, but we used to share art; that way of looking at the world has been lost, there's knowledge we don't have and there's work being done to recover lost memories." (Marcelo Castillo, JOC El Quisco)
We took part in some fantastic reforestation days, planting native species in collaboration with the organizations Defensa Quebrada El Batro, located in Villa Las Marinas, and Entorno Nativo, in El Totoral. These days were an opportunity to contribute to the upkeep and preservation of the environment, because as young people in the Chilean YCW, we identify deeply with this cause because of the great environmental injustices and the extractivist model that is rampant in our country. Taking part in these actions has enabled us to express our commitment to the protection of nature and sustainable development, reaffirming our active role in building a fairer and more equitable future for all.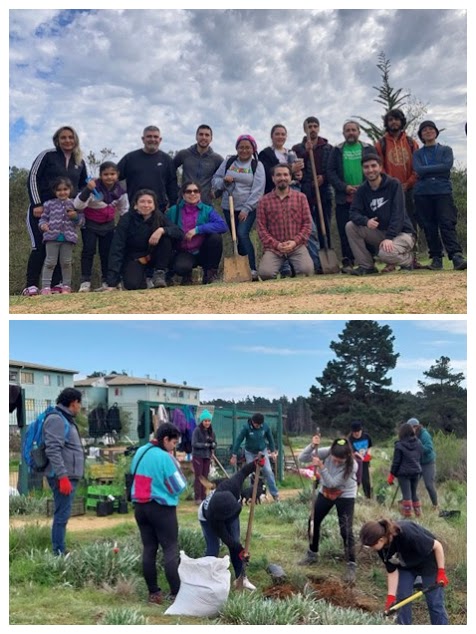 "Activities such as reforestation offer a better life for me and the members of this community, because in this case, the act of coming together to plant contributes to having a healthier environment where we can connect with nature; personally, I can't imagine a life disconnected from nature because the protection and shelter it offers me contributes to a better quality of life. This connection is fundamental to me. The activity was a moment of encounter and collaborative work that allowed us to deepen the analysis and reflection on how this type of activity has a positive impact on communities." (Karina Bahamondez, El Quisco YCW)
During the training week, as at most of our meetings, we also spent time delving into the art of screen printing. In the Chile YCW, screen printing is a valuable tool for action, both for those who have their own projects and for activists doing advocacy and propaganda (AGP) work. In these workshops, we learned about the different techniques and procedures used in screen printing. Screen printing occupies an important place in our movement, and in this process we were accompanied by Jorge Azañedo, a former YCW activist. His experience and dedication have been essential to our learning and development in this field. Through screen printing, we are strengthening our skills and ability to express ourselves and communicate our ideas, enabling us to be agents of change and transformation within our community and the society at large.
During the training week, we benefited from the invaluable presence of Marco Bazán, who proved to be a key player in the reflections and analyses that took place throughout the week. His experience, knowledge and points of view enriched each of the activities, generating a constructive and enriching space for dialogue. Marco Bazán's participation was fundamental in promoting a deep and committed learning environment, enabling young people to acquire a more comprehensive and critical view of the challenges they face in the world of work and in the social sphere. His contribution has been invaluable in the joint search for solutions to improve the reality of young people in the region.
In addition to the training week, on Thursday July 13 we organized an exciting bi-national dialogue co-organized by the YCW Peru and YCW Chile, in collaboration with the NGOs La Caleta de Chile and Ifejant Peru. At this event, several representatives of Valparaiso and the Metropolitan region, municipal offices, councilors and leaders had the opportunity to share their work experiences with young people and their thoughts on promoting the leading role of youth. The binational dialogue thus became a space for building networks and solidarity between the organizations present.
"It's been a wonderful experience working with YCW members in our sister country Chile. It is gratifying to see community experiences of living well; for example, the materialization of community gardens, where they can produce their own food, practicing and applying agroecology, thus preserving the knowledge of their ancestors; loving and being in harmony with nature is a slogan for them; knowing testimonies of life, where young people want a more dignified and inclusive work in their territories or communes. At the same time, they aspire and fight for a dignified, just, united and diversified life in harmony with Mother Earth. Thank you for so much reciprocal learning, which helps and strengthens our national movements; may co-responsibility continue to flourish, grow stronger and blaze trails in the community." (María del Carmen Flores, Peru YCW)