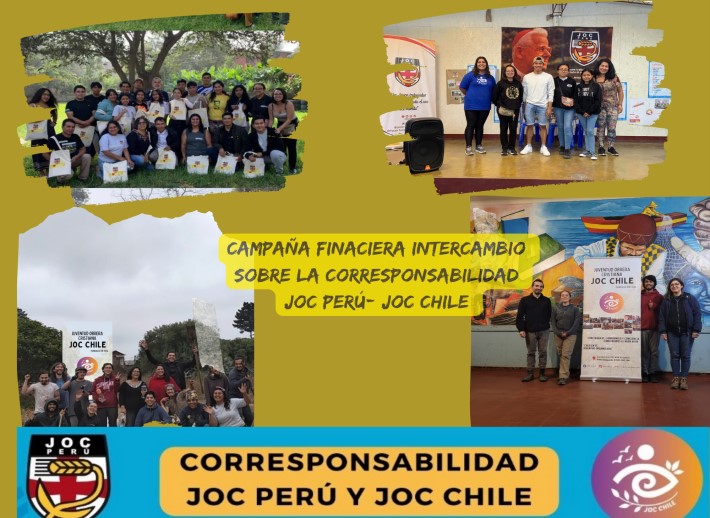 As part of the co-responsibility between Peru and Chile, various activities are being carried out, as set out in their plan, with the aim of strengthening the organizational process, particularly in the Chile YCW.
This process, which began at the 2016 International Council, has undergone a long journey to define a strategy in line with the movements' needs and to strengthen the organization, training and action.
For Chile and Peru, co-responsibility rests on constant accompaniment based on real-life experience, meaning that young people in Peru and Chile were able to experiment in the field with how they organize themselves, develop their analysis and training, and carry out their actions. This experience was a great success for the YCW, as young activists and young people in initiation were able to better understand and strengthen their motivations and commitment to the movement. In the process, the Peruvian and Chilean YCWs found the very meaning of the YCW: solidarity, an in-depth understanding of each young person's reality, and a way of facing life through their actions.
Along the way, however, they encountered various difficulties in organizing the exchanges and carrying out the accompaniment. The financial situation did not allow a greater number of young people to live out this field experience, but this did not prevent them from pursuing the objective of this co-responsibility.
This is why the Chilean YCW and the Peruvian YCW have launched a fundraising campaign that will enable them to organize an exchange with the participation of several young people in the El Quisco house in Chile.
Please join this fundraising campaign and help us make this experience-based exchange possible!
You can make your donation to the International YCW bank account, and the money will be transferred to the local leaders.
Bank: BELFIUS
Account holder: JOC Internationale aisbl
IBAN account: BE50 0682 2908 4018
SWIFT code: GKCCBEBB
Purpose of the donation: Solidarity Chile-Peru