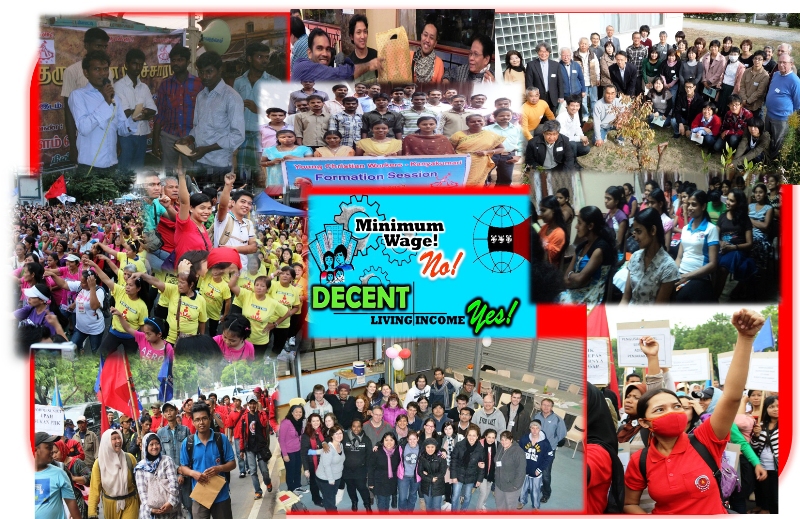 "In the world today, there is a wide gap between the decent life everyone is supposed to be entitled to and the difficulty we have to meet our most basic needs," said the YCW Asia Pacific (ASPAC) team in a statement it has recently published.
The ASPAC YCW mentions appalling statistics from international institutions. For instance, according to the World Bank, around 50% of the world population lives with less than US$2.50 a day while in Asia alone, even in the least industrialized countries, you need at least USD15 to 20 per day to meet basic needs. Around the world, 22,000 children die each day due to poverty. The ILO reported that about 5.1 billion people (75% of the world population) are not covered by adequate social security, while according to UN-Habitat, 2.6 billion people do not have access to adequate sanitation and 884 million people lack access to adequate sources of drinking water.
The Reality of Young Workers in Asia
The statement includes some testimonies from young workers in Asian countries.
"I am working in a construction field and I am a daily wage worker. I am 20 years old, yet I am the one responsible to take care of my family. I have 3 younger brothers and sisters whom I am supporting for their education and family food expenses. I receive a salary of PhP250/day (US$ 5). With this salary, we can't even afford to have a good meal three times a day. There are days that we eat rice with magic syrup (artificial cooking powder), adding water in it." - Jomarie Navarro, Philippines