"Terminus Interim. Stop the train of interim-abuses." This was the title of the public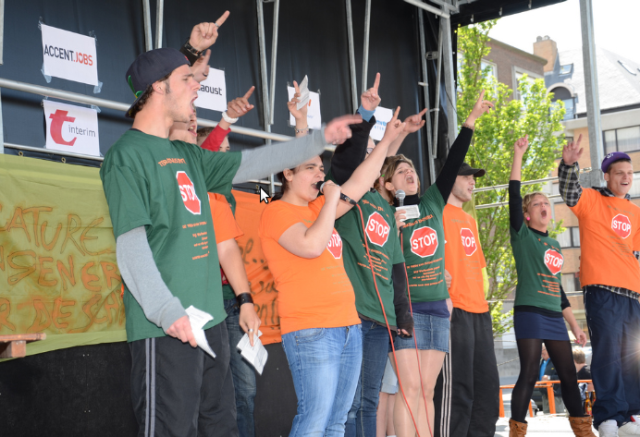 activity organized by KAJ (Flanders YCW) in Ostende with the presence of leaders from different regions. The aim of the event was to denounce the reality and violence suffered by young people who are seeking for jobs in temporary work agencies and see their dreams and expectations vanish into thin air.
Most of those young people have just graduated from secondary school or university, they are drop-outs, or have low skills, and they turn to temporary work agencies to help them find a job. In many cases, they face difficulties when they have to deal with the agencies, and KAJ wants to draw the attention of the society, the political authorities, the trade unions and the temporary work agencies themselves. They have reached the local and national press to explain their objectives and present the reality of young workers. KAJ carried out a survey, asking several young people about their reality, and it started to organize actions, including the June 2 event.
The IYCW International Secretariat participated in the action in Ostende. Arlindo de Oliveira (the international treasurer) was there and collected some testimonies from young people explaining their main problems.
 Young Workers Under Pressure
Riensje, a KAJ regional coordinator, and other young activists responsible for the activity in Ostende said: "People who leave school have difficulty in finding a job. They feel pressure. First of all from the agencies when they say you don't have the skills to work for them. So you go back home but when you get there sometimes your family doesn't believe you and say you are not looking for a job, or just like the agencies they question your capacities. It definitively doesn't help us, it doesn't motivate us."